About Jones Point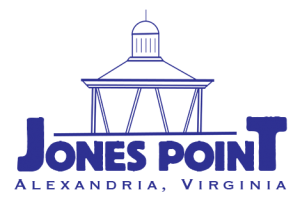 From its roots as a colonial seaport, Alexandria, Virginia has been a melting pot of cultures and music. Jones Point fuses this broad cross-section of American musical influences into an organic, high-energy sound that ranges from bluegrass to Go-Go, with many musical genres in between. With the care of artisan craftsmen, Jones Point delivers original arrangements and well-rehearsed three-part harmonies.
Jones Point (JP) is named after the National Park that extends into the Potomac River at the southeastern tip of the City of Alexandria. On the riverbank sits the last remaining riverine lighthouse in the Commonwealth of Virginia. During the 19th-century, the Jones Point lighthouse shined its light on locals and visitors alike as they approached the city.
Jones Point was started by experienced musicians — all Alexandria natives — with eclectic musical influences. The style of Americana they deliver at music venues and private parties has entertained long-time friends and newcomers with musical alchemy that, on occasion, has approached the limits of local noise ordinances.
Art Schmalz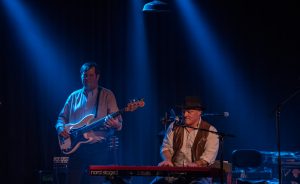 From jazz to Go-Go to rock, Art has played keyboards in a diverse assortment of musical groups. Starting with the TC Williams jazz band, Art met friends who invited him to join Shady Groove, a popular Go-Go band in the DC metro area.  A favorite album among Go-Go aficianados in the DC area, Art recorded "On the Move" with Shady Groove in a studio in Washington, DC.
In college at William & Mary, Art toured the college circuit from Chapel Hill, NC to College Park, MD, with N'est Pas, a Cellar Door Productions band. N'est Pas was a favorite at college parties and venues throughout the mid-Atlantic. They have performed several reunion shows in Williamsburg, VA and Alexandria, VA. Jones Point has opened for the former lead singer of N'est Pas, Chip Esten, on several occasions.
An Alexandria native, Art is central to arranging songs and working out harmonies for Jones Point.
John Leary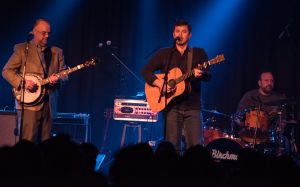 Music has been a constant thoughout John's life since hearing his Mother play the organ every Sunday at church in Old Town, Alexandria. Immediately after starting guitar lessons in fifth grade, John signed up for a school talent show and chose to perform the Beatles' "Yesterday" for his entire school (K-8). He's been playing in bands ever since.
John played in several high school bands at TC Williams High School, ranging from Go-Go to rock and roll.
While at the University of South Carolina, John performed with several jam bands, which focused on material by the Grateful Dead and Widespread Panic, among others. After college, John played in several bands in and around the DC area, including The Road, which played festivals and venues throughout DC, MD, and VA.  Remembering his father's love of bluegrass and country music, John has recently been focused on playing and performing Americana music.
A sixth-generation Alexandrian, John is the lead singer and guitar player for Jones Point.
Roddy Ring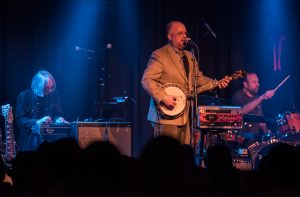 Starting in high school, Roddy could be found performing in music venues on King Street in Old Town with his band, The Blind.  As regulars on the – then bustling – Old Town music scene, The Blind were a favorite among TC Williams High School students and graduates.
Once he arrived at Hamilton College in New York, it wasn't long before Roddy was performing in bands at parties and clubs in the area. Directly following college, Roddy purchased a banjo in time for a cross-country roadtrip with friends. By the time he had returned, he had taught himself to play. Known as someone who can play anything with strings on it, Roddy subsequently learned lap steel, mandolin, ukelele, and purchased a pedal steel while taking lessons with music icon Mike Auldridge.
In the 1990's, Roddy recorded a bluegrass album with the Brass Railing Boys, featuring several high school musician friends. He subsequently performed at Alexandria-area clubs and parties with his reconstituted high school band, Practically Blind.
An Alexandria native, Roddy plays numerous instruments and provides vocals in Jones Point.